LAST BACK TO THE GAMES ROOM NEXT
Early Irish Board Games
"Tablut is played on a board of eighty-one squares marked as in the diagram (Fig. 1). One side consists of the King, who is stationed in the central square, and eight Swedes who occupy the cross-cut squares. All the pieces have the same move - that of the Rook in chess. Play is by alternate moves, and the one player tries to bring his King to the edge of the board, while the other tries to confine him so that he has no power of moving. In either case the game comes to an end, The King cannot be taken; any other man is taken when two of the opposing men occupy two squares adjacent to it and in the same straight line with it.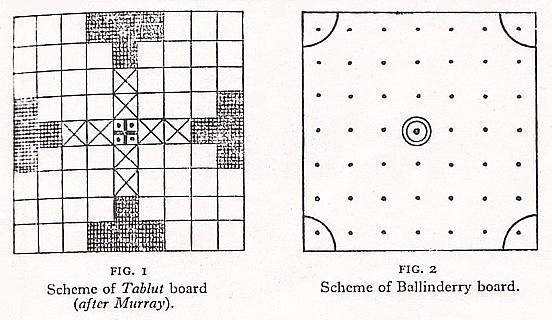 No other piece than the King can ever play to the central square. If the King be on d5 [38] and three Russians are on c5, d4 and d6, he is considered to be confined, and the Russians win. If the King be on e5, a Swede on f5, and Russians on d5, e4 and e6, the Russians can capture the Swede by playing a fourth man to g5. Whenever the King has a free road to the edge, the player must give notice to the enemy by saying raichi; if there is a choice between two free roads, he says tuichi
The old Norse game Hnefatafl is probably identical with tablut [39]. A board, probably for hnefatafl was figured on the Gallehus Horn (now lost). [40].
---
NOTES
38. i.e. reading the squares numerically from bottom to top and alphabetically from left to right.
return
39. Murray, op. cit. p. 445.
return
40. F. Lewis, "Gwerin ffristial a thawlbwrdd," Trans. Hon. Soc. Cymmrodarion, (1941), p. 200; v. Fiske, Chess in Iceland, p. 309 (this work was not available to me).
return