VARNEY THE VAMPIRE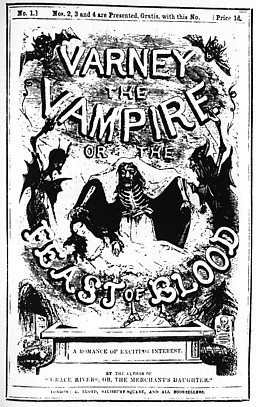 In the mid 19th century the great milestone of the English vampire novel was Varney the Vampire: Or the Feast of Blood by, possibly, Thomas Preskett Prest, a manically prolific author of penny dreadfuls and shilling shockers now best remembered for his evergreen Sweeny Todd, the Demon Barber of Fleet Street. He was also famous in his day for a highly coloured version of the true tale of Sawney Bean and his family of Scottish cannibals. In the fifteenth century this unsavoury tribe terrorized the Galloway coast for over twenty years, living in a cave that supposedly ran for a mile out under the sea and pouncing on passing travellers. Eating them too.
There have been suggestions that Varney was in fact written by another popular author, Malcolm James Rymer, or possibly several different hands; but whoever actually wrote it, the story proved so popular it was spun out for over a hundred episodes.
Varney first appeared in weekly 'penny dreadful' instalments which were gathered into a complete volume in 1847, the year Bram Stoker was born. At over 800 pages it is long and, as even enthusiasts admit, rambling to the point of often completely losing the thread of its own plot. Personally I gave up after a hundred or so pages, but the opening is great and in many other places it is still gripping, melodramatic stuff. For a decade or two it was enormously popular and extracts have appeared in vampire anthologies ever since. Almost certainly it inspired Bram Stoker to write something along the same lines, only better.
Originals of Varney have mostly long fallen apart because of their cheap paper, but I believe Dover in the States did a reprint some years ago. Also, thanks to the magic of the internet, anyone can now read a lovingly resurrected edition published by the Gutenberg free online library. Click HERE to have a look. It will open in a new window that you can just close to return to this page.