INTRODUCTION CONTENTS CHAPTER TWO
CHAPTER ONE: DRACULA'S DYNASTY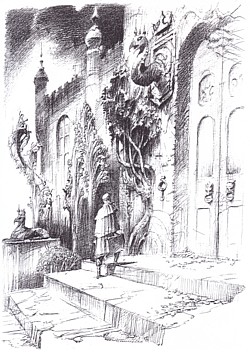 It all seemed like a horrible nightmare to me, and I expected that I should suddenly awake and find myself at home, with the dawn struggling in through the windows. But my flesh answered the pinching test, and my eyes were not to be deceived. I was indeed awake and among the Carpathians. All I could do now was to be patient, and wait the coming of the morning.
Just as I had come to this conclusion I heard a heavy step approaching behind the great door, and saw through the chinks the gleam of a coming light. There was the sound of rattling chains and the clanking of massive bolts drawn back. A key was turned with the loud grating of long disuse, and the great door swung back.
Within stood a tall old man, clean shaven save for a long white moustache, and clad in black from head to foot without a single speck of colour about him anywhere. He held in his hand an antique silver lamp, in which the flame burned without chimney or globe of any kind, throwing long, quivering shadows as it flickered in the draught of the open door. The old man motioned me in with his right hand and with a courtly gesture, saying in excellent English, but with a strange intonation:
"Welcome to my house! Enter freely and of your own will!" He made no motion of stepping to meet me but stood like a statue, as though his gesture of welcome had fixed him into stone. The instant, however, that I had stepped over the threshold, he moved impulsively forward, and holding out his hand grasped mine with a strength which made me wince, an effect which was not lessened by the fact that it seemed as cold as ice - more like the hand of a dead than a living man.
Jonathan Harker in Bram Stoker's Dracula


The lasting triumph of Bram Stoker's Dracula would astonish most readers of the first 1897 edition. At the time Stoker's mother proudly declared it a masterpiece on a par with Frankenstein or Dr Jekyll and Mr Hyde, which was true enough, but she also believed it would earn him a fortune, whereas it did not really take off till well after Bram Stoker's death. Some London critics even shared his mother's enthusiasm but initial sales were disappointing and less than 3,000 copies of the first printing were sold. To the general reading public it seemed just one more book among many.
Which was sad because writing was Stoker's strongest passion and he had premonitions of greatness while composing Dracula. It was a cruel disappointment when it stirred no more than a few ripples of enthusiasm. His dream of being able to support himself entirely by his pen, if he wished, remained as distant as ever.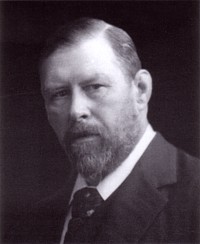 Years earlier in his native Dublin, Stoker had become well known as a theatre critic, journalist and editor. He had even written some promising shock-horror stories for the Shamrock magazine, but these were all labours of love. For his living Stoker drudged reluctantly as a clerk in Dublin Castle. Family finances had forced him straight into this job after graduating from Trinity College, where he had been both a sporting and cultural star. He had hoped for a more exciting life after university, but seemed to bear his lot quite cheerfully. He was rarely to be found in a bad mood when out on the cultural town in the evening, and his enthusiasms were infectious.
His chance to escape the Castle finally came after thirteen years when his love of the theatre finally repaid him. Henry Irving, the theatrical supremo of the day, had been won over by the passionate young Dublin critic who, besides having boundless energy and a tidy mind, happened to be Irving's greatest fan in Ireland. After a few meetings, he invited Stoker to become his personal business manager and also run the Lyceum Theatre in London, which he had just acquired. Stoker packed his bags on the spot and in no time was sailing for London with his new bride Florence, who had once been courted by Oscar Wilde.
Managing the Lyceum and Irving's tangled financial affairs were to be Stoker's main occupations for the next twenty-seven years. He grew famous in London Society as the jovial giant with the flaming red beard who greeted the audience on the steps of the Lyceum as they arrived. In this guise he was soon on friendly terms with everyone in high society from the Prince of Wales down, and he was often referred to as 'Irving's Treasure' for being the organisational power behind the scenes of the theatre. Francis Ford Coppola drops a passing reference to all this in his 1994 Dracula film. In the background of one London scene we see a sandwich board advertising Hamlet at the Lyceum, the play which launched Irving's career there and provided one of his most famous and enduring roles.
Stoker's first book was published soon after the move to London. Entitled The Duties of Clerks of Petty Sessions in Ireland, it proved a useful manual for former colleagues back home, but hardly set the literary world alight. In later years Stoker used to ask admirers solemnly if they had read his first book, The Duties, which he had been assured showed clear signs of promise . . .
Despite an enormous workload at the theatre and famously late nights (he and Irving regularly stayed up till dawn after performances to discuss the shows and life in general), Bram Stoker continued to write on the side and published several novels and short stories. They won some praise from the critics and were fairly popular, but no-one imagined he was on the way to creating one of the most vivid literary characters of all time.
Choosing the vampire as his theme was Stoker's lucky idea, his stroke of genius, but he wasn't writing in a vacuum. Throughout the nineteenth century there had been an undertow of interest in vampires, fuelled by rumours of vampire epidemics in Eastern Europe a hundred years before. Several German poets had taken up the theme, notably Goethe who in 1797 portrayed an ancient Greek vampire in The Bride of Corinth, giving the subject a certain respectability. In 1816 Coleridge wrote Christabel, often considered the first English vampire poem, and Gottfried Burger's poem Lenore also fired British poetry audiences through translations by Sir Walter Scott and others, including Dante Gabriel Rossetti. But considering the vogue for Gothic romance at the time, it is amazing how slow prose writers were to see the dramatic potential of vampires.
The first on record was John William Polidori, who was coincidentally uncle to Rossetti - poet, Pre Raphaelite and vampire in the making if ever there was one. With his dark good looks, piercing eyes and predatory approach to women, Rossetti had all the makings of a good Dracula. There is also the creepy story of how when his tragic wife Elizabeth Siddel died, Rossetti buried with her the only copy of some of his love poems to her. Years later he churlishly had second thoughts and opened the grave to get them back. Only to find the beautiful Elizabeth seemingly but asleep in the coffin, completely untouched by decay and lying in a nest of her own flaming red hair which had continued to grow after her death. So the story goes anyway, though some say it too has grown in the telling.
POLIDORI'S VAMPYRE
Polidori, translator of Walpole's Gothic classic Castle of Otranto into Italian, owed the inspiration for his own tale to Byron, whose companion, doctor and fellow debauchee he was for a time. Having been commissioned to write an account of the great poet's adventures in Europe, Polidori revelled in sharing them and repaid the patronage by writing out drug prescriptions all along the way.
The story is famous of how Mary Shelley was moved to write Frankenstein by the tedium of a rain-soaked holiday in Switzerland. Her own preface tells how in 1816, as the poet Shelley's teenage mistress, she, Shelley and Byron passed the time by spooking each other with French and German ghost stories. They then each decided to write their own flesh-creeper, of which hers was the only one to reach print.
Less well known is that the same holiday at the Villa Diodati near Geneva effectively gave birth to the vampire in fiction. Polidori was also present and borrowed Byron's germ of an idea for the basis of his own novella. Titled The Vampyre, it appeared three years later, first in instalments in Colburn's New Monthly Magazine and later as a complete volume on its own. It was an immediate and roaring success, largely because everyone thought Byron had written it. Even the great Goethe declared it to be Byron's finest piece of writing to date, which proves something about the nature of celebrity that hasn't changed much since.
When the truth came out, Polidori's book sadly plummeted out of favour, in Britain at least, leading to Polidori's suicide; or at least the reckless drug abuse that killed him at the age of twenty six. The Vampyre did however inspire several popular stage productions in Paris that were booked out for years and thus possibly inspired the Paris scenes in Anne Rice's Interview with the Vampire. One of the most popular Paris plays was by Charles Nodier, and it is supposed to have prompted Alexandre Dumas to write his own vampire play some thirty years later in 1851.
Continued in the published book . . .