INTRODUCTION TO SABINE BARING-GOULD'S BOOK OF WEREWOLVES
First published in 1865, Sabine Baring-Gould's classic study of werewolves is a revelation on the subject, being written at a time when werewolves were still taken very seriously in the wilder corners of Europe and, indeed, most other parts of the world. Since then, werewolves have largely retreated into fiction and famously into films where, along with vampires, they have become purveyors of macabre entertainment. But what this book demonstrates is that the werewolf was once the object of very real terror. And with good reason.
The spark of this study was Baring-Gould's close encounter in the remote French countryside with, if not quite the creature itself, a first-hand and very solid belief in its existence. (He describes this belief in an opening worthy of a Gothic novel.) This led him to wonder about the roots of the belief and thus to an investigation which trawls an enormous range of sources dating from antiquity up to the nineteenth century, skipping lightly from Norse saga to African and American folktales.
The author's own position is robustly modern, couched though it is in the leisurely and polished language of his day. The viewpoint to which he regularly returns is that lycanthropy, the condition of being a werewolf, is primarily a mental disorder often accompanied by hallucinations in both sufferers and their victims. But in his various digressions he builds a strong case for something much more tangible than this, giving a chilling taste of the reality of the condition for those in its thrall and for whom scepticism and urbane detachment were as remote as the moon.
Lycanthropy was a criminal offence in much of Europe during the late Middle Ages and those convicted of it usually met a horrible end. The records of such cases, almost because of their legal soberness, provide much of Baring Gould's most disturbing and fascinating material. In the light this the story of Little Red Riding Hood changes from a cautionary poetic fable into a worryingly direct warning of what was liable to happen to children who went straying in the woods.
Bloodthirstiness, cruelty, shapeshifting and cannibalism all come under examination, both as manifested in werewolves and in a wider context. Given his subject, the author's curiosity is almost by definition slightly morbid, but he stops short of salaciousness. The true stories he tells are terrible enough without the finer grisly details, in particular that of Gilles de Laval, also known as the Marechal de Letz, whose tale was here presented to the English reading public for the first time with any accuracy.
And grim reading it makes too. The Marechal was also known as 'Bluebeard', under which soubriquet he passed rapidly into folklore. But the true story as related in some detail by BaringGould is hardly less fantastic and is told with a verve any storyteller of old would admire. Champion of France against the English in the fifteenth century, marshall, councillor and chamberlain to the king, lord of wide estates in Brittany and possessor of a vast fortune, the Marechal nevertheless ended his life on a fiery gallows amid one of the scandals of the century. His dark appetites had been woken, he claimed, by his reading of the cruelties practiced by the ancient Caesars whom he sought to emulate.
One by one the author carefully examines the various strands of the werewolf legend and many of his conclusions are as valid today as when he was writing. For example, one theory has it that lycanthropy is simply one form of a human condition quite able to adopt other guises. Reading the examples in this book, many modern parallels spring to mind.
As wild wolves died out on the margins of European civilisation, so too did the fear of werewolves. But under different masks they continue to prowl in our midst, stunning the world from time to time when they are exposed.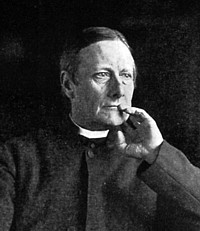 Sabine Baring-Gould (1834 - 1924) brought an immense authority and energy to his subject as well as an interesting viewpoint, for he was by profession a parson as well as a celebrated author, archaeologist and folklorist. One of the foremost collectors of British folksongs, he also composed the famous anthem Onward Christian Soldiers, published a monumental sixteen-volume edition of Lives of the Saints in addition to about thirty novels and a hundred other books on a wide range of topics. This combination of talents endows his study of werewolves with an enduring quality which has rarely been matched.
For developments of the legend since the nineteenth century one has to look elsewhere, but for its foundation this, the first in-depth examination in the English language, remains almost necessary reading. One only wishes it were longer.
Nigel Suckling
1994
Thanks to the wonder of the internet you can read the book online below. I love the bit in the first chapter where the French peasants shake their heads at Sabine's plan to walk home through werewolf territory after dark. He thinks they're marvelling at his English courage. Whereas of course they were obviously just thinking 'these rosbifs are all mad'.
THE BOOK OF WEREWOLVES

Sabine Baring-Gould Definition of Lycanthropy - Marcellus Sidetes - Virgil - Herodotus - Ovid - Pliny - Agriopas - Story from Petronius - Arcadian Legends - Explanation offered

Chapter Three: THE WERE-WOLF IN THE NORTH
Norse Traditions - Manner in which the Change was effected - Voelundar Kvida - Instances from the Völsung Saga - Hrolf's Saga Kraka - Faroëse Poem - Helga Kvida - Vatnsdæla Saga - Eyrbyggja Saga

Chapter Four: THE ORIGIN OF THE SCANDINAVIAN WERE-WOLF
Advantage of the Study of Norse Literature - Bear and Wolf-skin Dresses - The Berserkir - Their Rage - The Story of Thorir - Passages from the Aigla - The Evening Wolf - Skallagrim and his Son - Derivation of the Word "Hamr:" of "Vargr" - Laws affecting Outlaws - "To become a Boar" - Recapitulation

Chapter Five: THE WERE-WOLF IN THE MIDDLE AGES
Stories from Olaus Magnus of Livonian Were-wolves - Story from Bishop Majolus - Story of Albertus Pericofcius - Similar occurrence at Prague - Saint Patrick - Strange incident related by John of Nüremberg - Bisclaveret - Courland Were-wolves - Pierre Vidal - Pavian Lycanthropist - Bodin's Stories - Forestus' Account of a Lycanthropist - Neapolitan Were-wolf

Chapter Six: A CHAPTER OF HORRORS
Pierre Bourgot and Michel Verdung -- The Hermit of S. Bonnot -- The Gandillon Family -- Thievenne Paget -- The Tailor of Châlons -- Roulet

Chapter Seven: JEAN GRENIER
On the Sand-dunes -- A Wolf attacks Marguerite Poirier -- Jean Grenier brought to Trial -- His Confessions -- Charges of Cannibalism proved -- His Sentence -- Behaviour in the Monastery -- Visit of Del'ancre

Chapter Eight: FOLK-LORE RELATING TO WERE-WOLVES
Barrenness of English Folk-lore -- Devonshire Traditions -- Derivation of Were-wolf -- Cannibalism in Scotland -- The Angus Robber -- The Carle of Perth -- French Superstitions -- Norwegian Traditions -- Danish Tales of Were-wolves -- Holstein Stories -- The Werewolf in the Netherlands -- Among the Greeks; the Serbs; the White Russians; the Poles; the Russians -- A Russian Receipt for becoming a Were-wolf -- The Bohemian Vlkodlak -- Armenian Story -- Indian Tales -- Abyssinian Budas -- American Transformation Tales -- A Slovakian Household Tale -- Similar Greek, Béarnais, and Icelandic Tales

Chapter Nine: NATURAL CAUSES OF LYCANTHROPY
Innate Cruelty -- Its Three Forms -- Dumollard -- Andreas Bichel -- A Dutch Priest -- Other instances of Inherent Cruelty -- Cruelty united to Refinement -- A Hungarian Bather in Blood -- Suddenness with which the Passion is developed -- Cannibalism; in pregnant Women; in Maniacs -- Hallucination; how Produced -- Salves -- The Story of Lucius -- Self-deception

Chapter Ten: MYTHOLOGICAL ORIGIN OF THE WERE-WOLF MYTH
Metempsychosis -- Sympathy between Men and Beasts -- Finnbog and the Bear -- Osage and the Beaver -- The Connexion of Soul and Body -- Buddism -- Case of Mr. Holloway -- Popular ideas concerning the Body -- The derivation of the German Leichnam -- Feather Dresses -- Transmigration of Souls -- A Basque Story -- Story from the Pantschatantra -- Savage ideas regarding Natural Phenomena -- Thunder, Lightning, and Cloud -- The origin of the Dragon -- John of Bromton's Dragon a Waterspout -- The Legend of Typhoeus -- Allegorizing of the Effects of a Hurricane -- Anthropomorphosis -- The Cirrus Cloud, a Heavenly Swan -- Urvaci -- The Storm-cloud a Daemon -- Vritra and Rakschasas -- Story of a Brahmin and a Rakschasas

Chapter Eleven: THE MARÉCHAL DE REZT I: THE INVESTIGATION OF CHARGES
Introduction -- History of Gilles de Laval -- The Castle of Machecoul -- Surrender of the Marshal -- Examination of Witnesses -- Letter of De Retz -- The Duke of Brittany reluctant to move -- The Bishop of Nantes

Chapter Twelve: THE MARÉCHAL DE REZT II: THE TRIAL
The Appearance of the Marshal -- Pierre de l'Hospital -- The Requisition -- The Trial adjourned -- Meeting of the Marshal and his Servants -- The Confession of Henriet -- Pontou persuaded to confess all -- The adjourned Trial not hurried on -- The hesitation of the Duke of Brittany

Chapter Thirteen: MARÉCHAL DE RETZ III: THE SENTENCE AND EXECUTION
The adjourned Trial -- The Marshal Confesses -- The Case handed over to the Ecclesiastical Tribunal -- Prompt steps taken by the Bishop -- The Sentence -- Ratified by the Secular Court -- The Execution

Chapter Fourteen: A GALICIAN WERE-WOLF
The Inhabitants of Austrian Galicia -- The Hamlet of Polomyja -- Summer Evening in the Forest -- The Beggar Swiatek -- A Girl disappears -- A School-boy vanishes -- A Servant-girl lost -- Another Boy carried off -- The Discovery made by the Publican of Polomyja -- Swiatek locked up -- Brought to Dabkow -- Commits suicide

Chapter Fifteen: ANOMALOUS CASE -- THE HUMAN HYENÆ
Ghouls -- Story from Fornari -- Quotation from Apuleius -- Incident mentioned by Marcassus -- Cemeteries of Paris violated -- Discovery of Violator -- Confession of M. Bertrand

Chapter Sixteen: A SERMON ON WERE-WOLVES
The Discourses of Dr. Johann Geiler -- The Sermon -- Remarks